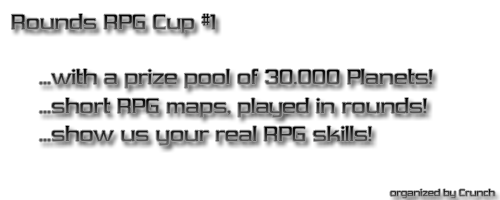 It's time for my first cup, the
Rounds RPG Cup
. In this thread, I'll give you some information about the cup.
MAPS WANTED
I need your maps, which will be played in the cup. The maps should have the following requirements:
- Length: 1 - 2 minutes
- Not released, yet
- Multilap
- CP's should be respawnable
- Built with the current RPG Tm² titlepack
- No mediatracker (Intro, while racing, Outtro)
- Name the track with the following code: $s$000[RPG-RC]$fffYourTrackname
- Deadline: 10.02.2016
If you have fun, building maps or you have some unreleased maps, feel free to send them to me. Send the maps to
C.Letmathe(at)outlook.de
!
Prizes
#1 - 15.000 Planets
#2 - 10.000 Planets
#3 - 5.000 Planets
If you want to donate something (donations will be put in the prize pool), I'd appreciate that! To do so, just write me a mail to C.Letmathe(at)outlook.de with some information on what you want to donate. Thanks!
Cup information
- You have 1-2 week(s) time to train the maps (I'm not sure, whether I'll give you 1 or 2 weeks)
- At matchday, you will play 2 of the RPG maps (rounds per map will depend on the map length)
- You will be put in groups with 4 players each. At matchday, you will play in 1vs1vs1vs1 mode (Rounds, of course)
- The first two of each group will expand to the final (more information about the final later)
How to sign up
Ready for it? To sign up, use the following format and post it below this thread. Deadline for signing up is the 10th February, 2016.
Code: Select all

Ingame-Nickname:
Maniaplanet-Login:
Location:
E-mail:
Other contact information (optional):

You can also sign up by writing an email to me (C.Letmathe(at)outlook.de), using the format above.
How to contact me
Any questions? Feel free to contact me, using the methods below:
- Email: C.Letmathe(at)outlook.de
- Maniaplanet-Login: chrizz
- Ingame-Nick: hoover' Crunch
- ... or in this forum!
I'd love to see you guys participating. Feel free to tell me your feedback about the cup and its settings!
See you on the road, guys!